NubiSoft is a renowned provider of innovative software solutions. Since 2018, we've been helping organizations build remarkable solutions for complex problems. We specialize in healthcare, data visualization, and e-commerce industries. As a technology-focused company, we utilize cutting-edge resources to produce experiences that don't only get the job done but exceed expectations.
We're always looking for challenges. Our driving force is to impart valuable expertise to our partners to find the right solutions to their growing challenges. As such, we're proud to be among the developers on Clutch that receive positive reviews regularly.
For context, Clutch is a B2B ratings and reviews platform committed to helping small, mid-market, and enterprise businesses connect with capable service providers. Clutch serves as a valuable resource to businesses when it comes to market research. The platform guarantees unbiased information by interviewing clients of registered vendors directly.
We're truly honored to be recognized by our partners as a game-changer in the software development space in Poland. Docplanner is one of the clients that recently shared their feedback, and provided a detailed breakdown of our ongoing project: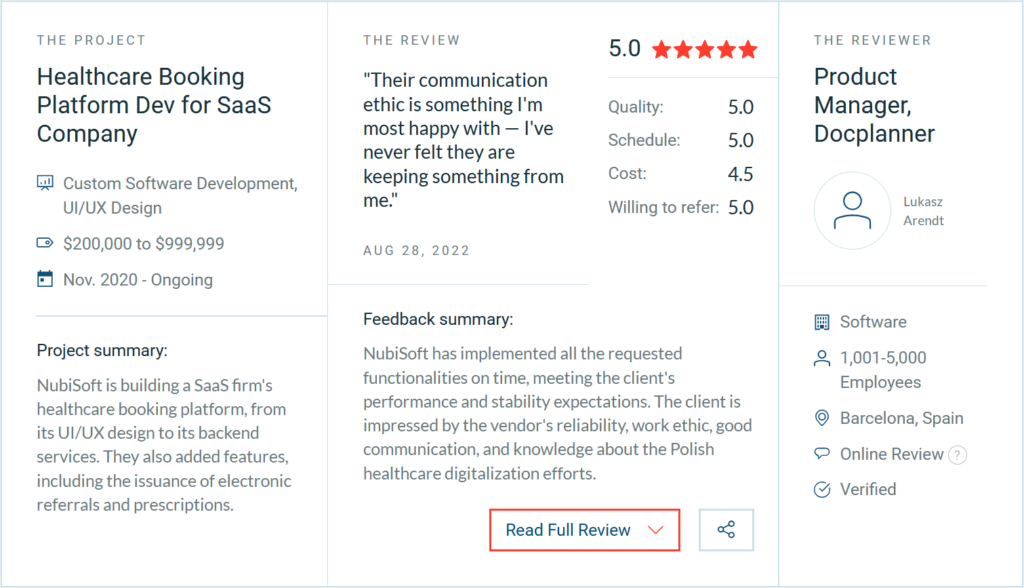 The goal of our project is to build a healthcare booking platform, allowing users (physicians) to issue electronic referrals, prescriptions and sick leaves, report the realization of medical events and verify the patient's health insurance status. This full-stack project involved UI/UX design, data modeling, backend development, and more. Here's what the client thinks of our engagement so far:
"All the parts of the solution were delivered and pushed to production on time so far. They met our expectations in terms of performance and stability. I think their domain knowledge regarding Polish healthcare digitalization was quite unique. I was impressed by their reliability, work ethic, and great communication."

— Lukasz Arendt, Product Manager, Docplanner
Thank you to Lukasz for taking the time to write this review. We're truly honored to have such beloved clients that push us to keep expanding our capabilities in order to deliver the outcomes they deserve. Find out more about our previous projects by reading the other reviews on our Clutch profile.
For more information about our solutions, please get in touch with our representatives.